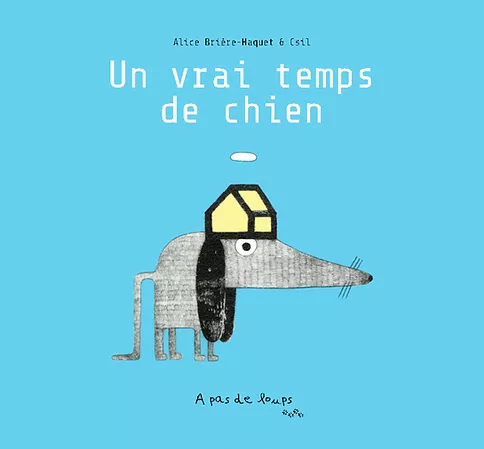 Picture Book
Age group: 4 and up
Pages: 40
Format: 21 x 20 cm
Hardcover
RP: 15,50€
A Dog in Winter
Written by Brière-Haquet Alice
Illustrated by Csil
When is the weather too rotten to let your dog go out? Not rain nor wind nor hail can stop the canine hero of this book from trailing his good humor and long floppy ears across these pages. The words tag along on his meteorological adventures. For although happiness often looks sky blue, it also goes well with snow white or a muddy brown.

The way we perceive animals has evolved… but not the way we speak of them. This imprint sets out to confront these clichés by taking a sidestep on the level of story—we hear animals' voices—and art, with Csil's madly stylish and nimbly zany engravings.
Born in 1979, Alice Brière-Haquet studied literature before teaching it and art history in high school. A lover of words and pictures, she turned to writing children's books. Novels, fairy tales, poems—whether the story is real or fictional, what matters to her is that the sentences act as bridges joining her imagination to the reader's. She has written over fifty works.
Illustrator and graphic designer, Csil lives and works in the Ardennes. She weaves shapes and colors into a poetic and off-kilter world where strange characters sometimes slip in. She has worked with Éditions Frimousse and illustrated a book in the Philonimo imprint from Éditions 3 œil.

With À Pas de Loups, she has illustrated the picture book Missing Stars, written by Thomas Scotto, and The Girl Who Was Looking for Her Eyes with Alex Cousseau.