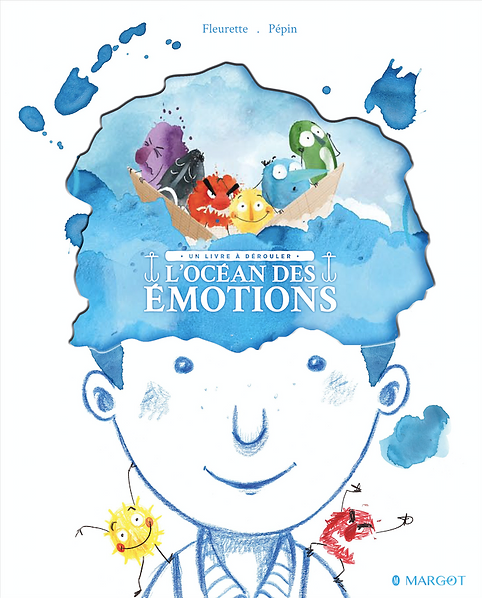 Activity Book
Age group: 3 and up
Pages: 32
Format: 18,3 x 23 cm
Hardcover
RP: 14,90 €
A roll out book The Ocean of Emotions
Written by Fleurette
Illustrated by Pépin
Presentation of the work
​Little captains navigate on the ocean of emotions: Joy, Sadness, Surprise, Anger, Fear and Disgust. And there's no rest !
In the company of these six captains, the child will set out on a discovery of emotions. He or she will learn to identify them in a playful and interactive way, to understand them better and to manage them in everyday life.
Why a book about emotions?
Emotions are a leading theme in literature for youth. Very popular among independants as well as professionals of early childhood, books with this theme meet with great success. We can notably cite The Colour of Emotions (Ed. Quatre Fleuves), which to this day is the only object book dealing with this theme.
That's why we've chosen to create an object book. The Ocean of Emotions allows the child to discover emotions, personified under the traits of six colourful little characters. The game brings a playful dimension to the learning of emotions.
​An accordeon book
On Side 1
we discover the six primary emotions
​On Side 2
a game (modeled after board games) allows children to familiarise themselves with these emotions.