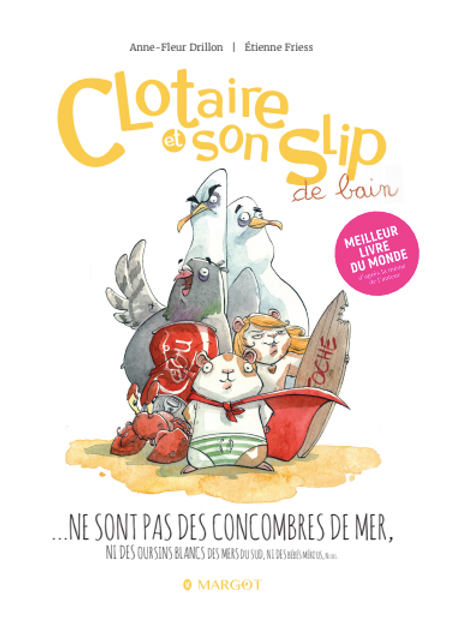 Novel with illustrations
Age group: 6 and up
Pages: 48
Format: 22 x 16 cm
RP: 9.90 €
Clotaire and his Bathing Gear …are not sea cucumbers, nor white sea urchins of the south seas, nor baby groupers, nor…
Written by Drillon Anne-Fleur
Illustrated by Friess Étienne
The Clotaires, a family of super-hero hamsters, like to spend their vacation on the seaside. One morning, Clotaire goes walking along the beach in a green-striped bathing suit. Bad idea ! The hamster is captured by hermit crabs, persuaded that they've met with a sea cucumber… and determined to deliver him to the Super Mean & Awful Seagulls, who are very fond of sea cucumbers !
In this adventure, Clotaire will cross pathes with a trio of scatty pelicans, a surfer hamster with a look like… how to say?…- oh darn, well, read this book and you will see -, as well as plenty of other creatures, with skin, feathers, shells… each one nuttier than the other !
Will Clotaire make it through, or will he end up on the seagulls' dinner plate? Plenty of suspense, exciting twists and turns, fun and wacky humour: it's all happening in this book !