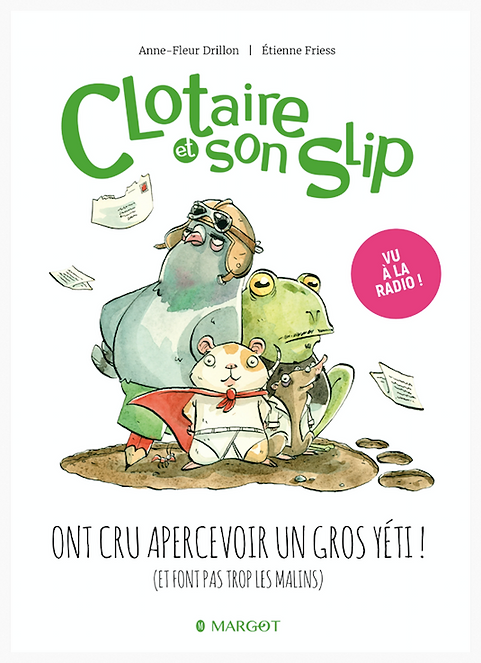 Novel with illustrations
Age group: 6 and up
Pages: 48
Format: 22 x 16 cm
RP: 9.90 €
Clotaire and his underwear – They've seen a big yeti ! (and don't try to get too smart)
Written by Drillon Anne-Fleur
Illustrated by Friess Étienne
Clotaire, the one-and-only super hero hamster in underwear, returns in new and even more thrilling adventures ! After having demolished The Disgusting Rats in volume 1, defeated The Foul Voracious Seagulls in volume 2, Clotaire takes on an impressive enemy: the yeti ! Clotaire and his friend François decide to recruit an inventer of gadgets in their little troupe of super heroes. Some responses to their ad reach them, but nothing too cheering…
Until the letter of Phil the Shrew, inventor of the mice reduction system, of the ionic propulsion jet-pack for not-too-heavy rodents and of the oxide telescopic arm of a titan. The ideal candidate !
Clotaire and François leave to make a visit to the shrew. When they arrive to their destination, horror and pickles ! The inventor's house has been crushed ! A few meters away from the rubble: an enormous footprint.
Our two buddies launch into a search for the inventor. On their quest, they will be helped by the Club of Admirers of the Yeti as well as Barbecue Chips. Has Phil the Shrew made it through? Is the guilty one who we think it is? What hazards will our friends meet with?…
Clotaire and his underwear believe they've seen a big yeti: a captivating, scouring and hilarious adventure !