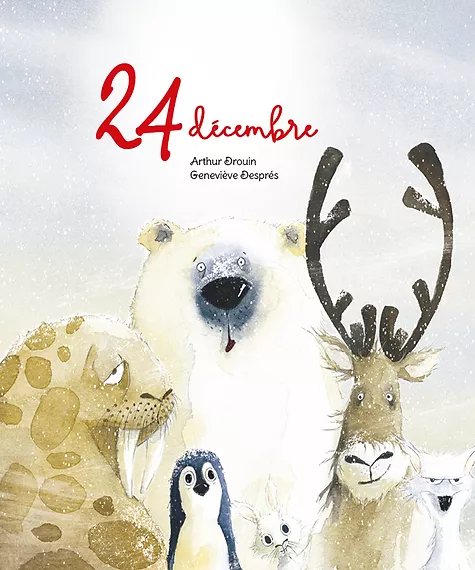 Picture Book
Age group: 3 and up
Pages: 32
Format: 26 x 26 cm
Hardcover
RP: CAN $ 20,95
December 24th
Written by Drouin Arthur
Illustrated by Després Geneviève
A playful and sensitive debut from Arthur Drouin, collaborating with his mother, Geneviève Després.
Themes: Animals, Christmas, helping each other.
The book: Montmartre the reindeer and Fanny the jackrabbit wonder how Christmas is celebrated. But then they spot a pudgy bearded fellow in red from head to toe bring them gifts? With help from their friends, they'll work wonders together!
THE WRITER: Arthur Drouin is a young English Literature student with a passion for reading and naturally, writing. He was published in an anthology of short stories from NUM Éditeurs' 2016 Young Writers Challenge. December 24th is his first picture book.
THE ILLUSTRATOR: Geneviève Després was lucky enough to spend time living in France and Italy with her little family. That was where she decided to focus on illustrating children's books. Ever since returning to Quebec in 2007, she has had a wonderful time illustrating children's books. She uses various media (tapestry, cardboard, kraft paper) for her illustrations, switching between gouache and acrylics, sometimes even pastels and pencils. She would like to start writing her own stories and be published all over the world!