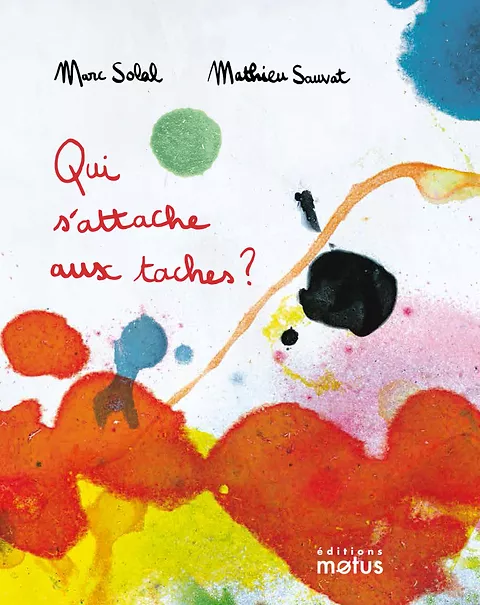 Picture Book
Age group: 6 and up
Pages: 32
Format: 23 x 29 cm
Hardcover
RP: 14,50 €
The Thoughts of Spots
Written by Solal Marc
Illustrated by Sauvat Mathieu
"I was born from a student's pen […] But it was the same everywhere. No one was ever happy to see me."
​In this picture book, for once, the narrator isn't a person, or even an animal. She isn't really an object either, even if she spreads across paper… a child's paper who's in the middle of a spelling test. The narrator this time is an ink stain. The stain talks and tells her story with sadness. She is never welcome anywhere she goes, not at school, on clothes, at work or on vacation. But to her own surprise, our heroine will end up amongst other stains, of all different colours, on a painter's canvas. And everything will change!
​Marc Solal is an artist (visual artist, photographer, illustrator) and a writer. For Møtus, he has created the photos for La Tête Dans les Nuages (translated into Japanese, German, Korean, Chinese, English and Spanish), Ami, Où Es-Tu? and Ma Bien-Aimée et le Très Savoureux Jamais from then Mouchoir de poche collection. He has also worked in adult literature, publishing Tout est Beau and Petites Faims with Hachette littérature.
​Qui s'Attache aux Taches is the 7th collaboration between Marc Solal and Møtus. Mathieu Sauvat is a young visual artist, with a degree from the Beaux-Arts school of Paris. His work, whether it is a drawing, films, sculptures or installation, is always constructed around a story. Qui s'Attache aux Taches is his first book with Møtus.