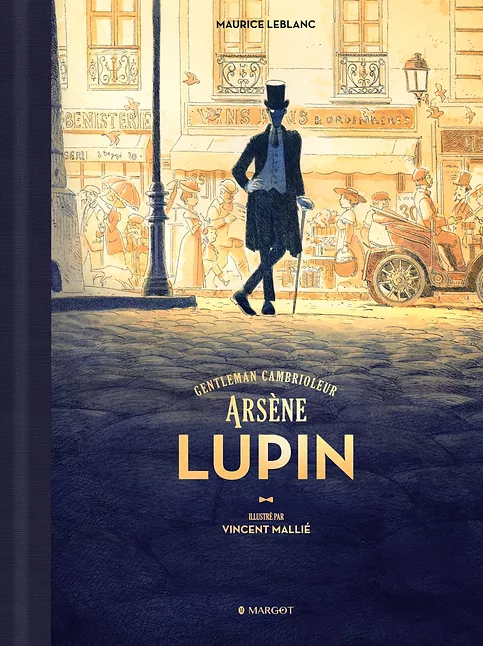 Novel with illustrations
Age group: 10 and up
Pages: 176
Format: 24 x 32 cm
Hardcover
RP: 25 €
Arsène Lupin – Gentelman Thief
Written by Leblanc Maurice
Illustrated by Mallié Vincent
Discover the adventures of Arsène Lupin, the most daring thief, whose only weapons are his intelligence and audacity! Lupin carries out incredible tricks in order to steal from the upper crust in the nine volumes about his exploits. Always shifting, never quite the same, Arsène Lupin is truly elusive!
The text by Maurice Leblanc, published in1905 has been made popular again by the Netflix series "Lupin" and sales of the book are booming as people (re)discover Lupin's adventures.
We wanted to add our own unique expertise into the mix, and the collaboration with Vincent Mallié was born from this desire. Forty illustrations in pen and watercolour give life to the adventures of the famous thief. The book itself is a beautiful object, printed in a large format with gilding, cloth binding, high quality paper, etc.
​Vincent Mallié
In collaboration with Joël Parnotte, Vincent Mallié published Hong Kong Triad (3 volumes, 1998-2000) published by Le Téméraire. From 2000 to 2006, he created Les Aquanautes (5 volumes, Soleil Productions) and L'Arche with Jérôme Félix (3 volumes, 2003-2005). From 2007 to 2019, he worked with Régis Loisel and Djian on Le Grand Mort (Vents d'Ouest). Between
2010 and 2013, he collaborated with Régis Loisel and Serge le Tendre on the famous series, La Quête de l'oiseau du temps. Finally, the first volume of his diptych Ténébreuse will be published in September by Dupuis. Vincent Mallié also creates illustrations for the Parisian gallery, Daniel Maghen.