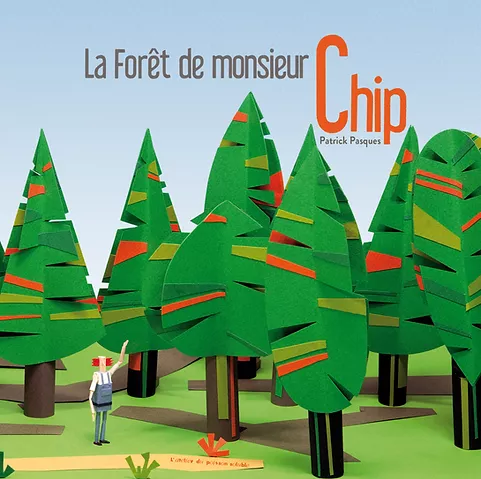 Picture Book
Age group: 5 and up
Pages: 36
Format: 20 x 20 cm
Hardcover
RP: 15 €
Mr. Chip's Forest
Written by Pasques Patrick
Illustrated by Pasques Patrick
Mr. Chip is a brilliant handyman. He loves nature and birdsong, but in order to build his little house, and especially the countless extensions, he'll cut down the whole forest and drive the animals away. In a light and playful tone, this book touches on weighty subjects, such as the devastation of nature caused by humans, deforestation and the technological management of disasters, which can be in and of themselves… disastrous.
A virtuoso paper folder, Patrick Pasques is impressive as his technique goes against all fads. He has already written a hilarious catalogue of vehicles, laconically called Vrooom. In this book he has created a contemporary fable that is thought provoking without being worrying.
​Patrick Pasques
For years, he wrote extremely serious scientific texts, translations and popular science works, but when he discovered, nearly by accident, the world of paper and illustration, he radically changed tack. Now all his energy goes into this playful pursuit and he shares his passion by running numerous workshops for adults and children.