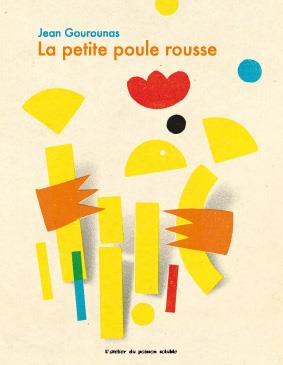 Picture Book
Age group: 3 and up
Pages: 32
Format: 18,5 x 24,5 cm
Hardcover
RP: 15
The Little Red Hen
Written by Gourounas Jean
Illustrated by Gourounas Jean
A little red hen
tidying up her farm, one day
found a grain of wheat.
The story is a french classic: without the help of her neighbours – pig, duck and cat – she will make it grow, will transform the harvest into flour, which she will then turn into good crusty bread.
Strong in its graphic mastery which has already worked wonders (see his great « Interrogative Trilogy on the Ice Field ») and allows him to place characters with a few forms and colours intelligently coded, as well as its sense of savory dialogue, punctuated with onomatopoenia, asides and brief but tasty commentaries… like good bread.
Jean Gourounas gives a new lease of life to a classic of the literary patrimony of elementary school. Second year preschool teachers can be grateful to him.