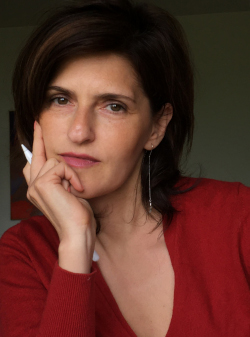 Mineva Denitza
Denitza Mineva was born in Sofia, Bulgaria. After graduating from the Sofia High School of Fine Arts, she specialized in illustration and book art at the Fine Arts Academy. Her final projects were in the field of children's literature, which already fascinated her. After getting her master's degree, she went to France, partly from a spirit of adventure, but most of all to refine her teaching skills at the EnsAD, a grande école of art and design in Paris.
Upon leaving ENSAD, she worked as a graphic designer in the fashion world. She found the field absorbing for a few years, but as soon as she became a mother, her desire to create books for children returned. Her first picture book–or rather, three-book series–Mi was released by children's publisher Anabet. Other solo works that she shepherded from concept to words, pictures, and graphics) followed, as well as collaborations: illustrations for picture books, short stories, and novels for young readers.
As an illustrator, Denitza likes to look for a graphic language specific to each story. Clean shapes, funny drawings, soft watercolors, intense engravings. . . a varied but always unique palette of expressions. (As for her themes, some are recurring: discovery, sharing, openness to others, or simply happiness.) Denitza Mineva is a frequent contributor to panels, workshops, and book fairs, which are for her sources of positive energy as well as inspiration. She recently founded her own children's publishing house, Iuli, launching it with the picture book Forevermore which was nominated for the 2023Chronos Award.