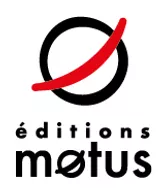 møtus
Created in 1988,møtus publications, established in the Manche region of France, first published poetry for adults before gradually working their way towards literature for youth, which is now their main activity.
møtus naturally interweaves its poetic spirit into its prose, and a series from its catalogue is also dedicated exclusively to poetry. Since 2019 Pierre Lenganey has become the new Publisher and the møtus adventure continue!
​Its production displays great diversity as well as extraordinary creativity. Traveling beyond the beaten paths, møtus enjoys surprising, whether it be in publishing poetic picture books or book-objects. A freedom and creative spirit that the authors and illustrators share with this small-in-size yet great publisher.
Focus on
-- click on the cover to get more details --