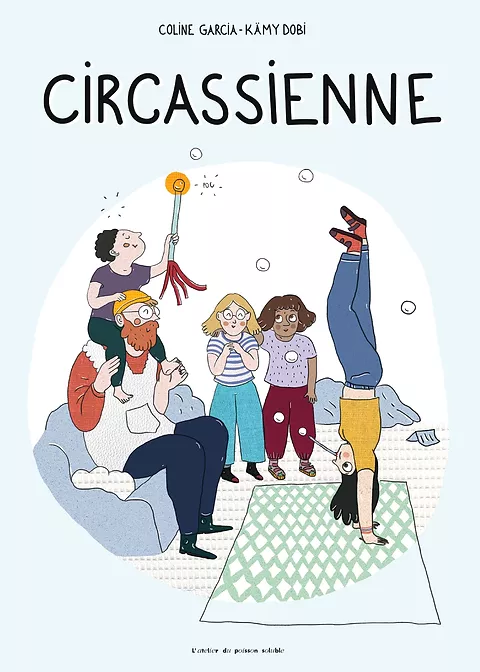 Circus Lady
Written by

Garcia Coline


Illustrated by

Dobi Kämi
Picture Book
Age group: 4 and up
Pages: 40
Format: 20 x 28 cm
Hardcover
RP: 16 €
Noûr is greatly intrigued by Charlie, a new student whose dad is always walking him to school. Is his mother a world traveler? A paleeontologist in the Amazon? An international star?
Coline Garcia, an artist with the contemporary circus company Sterno Circo Occipito Mastoidienne (SCoM), introduces readers to an array of little-known crafts through the eyes of a curious child. A school field trip to the theater to watch the show in which Charlie's mother performs an aerial acrobatic number, demolishes all the clichés of the circus' traditional reputation, offering a glimpse of contemporary creations.
In much the same way, Kämy Dobi illustrations break with the quaint and antiquated, in line with this discovery of new aesthetics a world away from sequins and spangles.
Coline Garcia
A graduate of the 21st class of the National Center for Circus Arts (CNAC), Coline Garcia founded the SCoM company in 2016. Having observed over the years that traditional images of the circus were so much a part of the collective imagination as to leave little place for contemporary innovations directed at younger audiences, she devoted herself passionately to changing the game and making a difference.
Kämy Dobi
Though her heart belongs to Tasmania and the Gers, two very different regions in which she was raised, Kämy Dobi has a thirst for making new discoveries and boundless curiosity about the human and natural worlds. These inform her illustrations. In 2010, she won the Special Jury Prize at the Colomiers Comics Festival, awarded by renowned creator Marc-Antoine Mathieu.