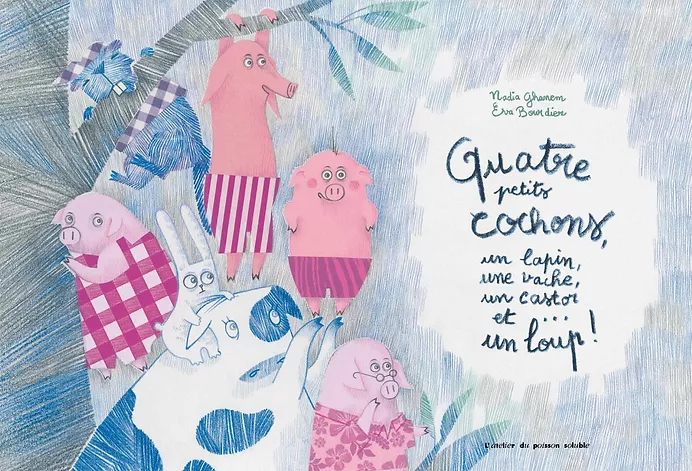 Four Little Pigs, a Rabbit, a Cow, a Beaver, and… a Wolf!
Written by

Ghanem Nadia


Illustrated by

Bourdier Éva
Picture Book
Age group: 4 and up
Pages: 48
Format: 23,5 x 16 cm
Hardcover
RP: 15€
Once upon a time, there lived three little pigs… and one more! A subversive take on an told tale.
With this seemingly light and frivolous animal fable, Nadia Ghanem deftly tackles themes of superstition, prejudice, and mutual aid. In a down-to-earth manner, she also interrogates our impact on the world around us, subtly championing buildings that are integrated into the environment.
A tour-de-force from a promising new author that never tips over into preaching or moralizing.
Éva Bourdier, trained at the Émile Cohl School, mischievously brings the story to life with her images, delivering a delightful anthropomorphized vision that will seduce readers of all sorts.

Nadia Ghanem was raised on a diet of fries under the sun of Algiers. She divides her time between the Picard countryside of northern France and the mountains of Kabylia. She spent the endless dog days of summer reading compulsively before writing her own stories. In 2013, she became a schoolteacher and began writing children's books that blend fantasy and environmental awareness.

Éva Bourdier
Paper is her playground: she cuts out pieces with well-honed Exacto blades and stacks them atop one another, tears them apart, glue them together, decorates them with drawings, gives them depth. She loves thinking about designing books—their shape, materials, layout—adapting her technique based on inspiration and the needs of each individual project.