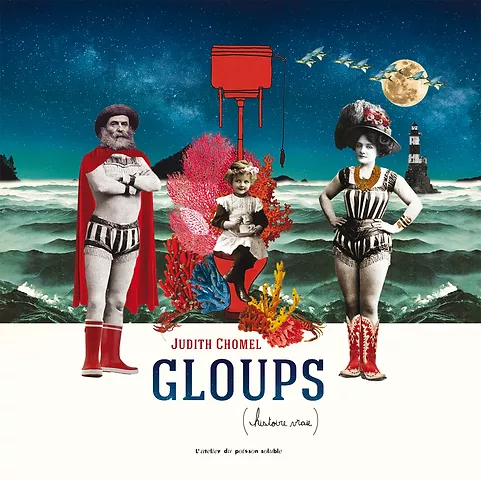 Gloups (a true story)
Written by

Chomel Judith


Illustrated by

Chomel Judith
Picture Book
Age group: 5 and up
Pages: 36
Format: 20 x 20 cm
Hardcover
RP: 15€
In this family, mom is an adventurer, dad repairs the hot air balloon and does the cooking (his specialty is shrimp with fennel) and grandma is a contorsionnist.
Judith Chomel is full of imagination. She has thus enhanced a memory of childhood that might seem like other more normal ones, by putting images together with exuberance, creating collages with photos and incongruous drawings in the tradition of Max Ernst (though with more color) and Jacques Prévert. She also plays with typography, accentuating the general impression of playfulness.
Judith Chomel is a multitalented artist with a delightfully unusual career path! With a graduate degree in art history, she has worked as a tour guide in a medieval fortress, an assistant to the cultural attachée at the embassy of France in Italy, an editorial coordinator for the Design Biennale in Saint-Étienne, administrator for a Baroque music ensemble and as a musician.
She is also a singer and an accordionist with the Barilla Sisters, a famous group from Saint-Étienne that plays tarentellas from Southern Italy with Radio Tutti. She has a soft spot for travel journals, photography and illustration.