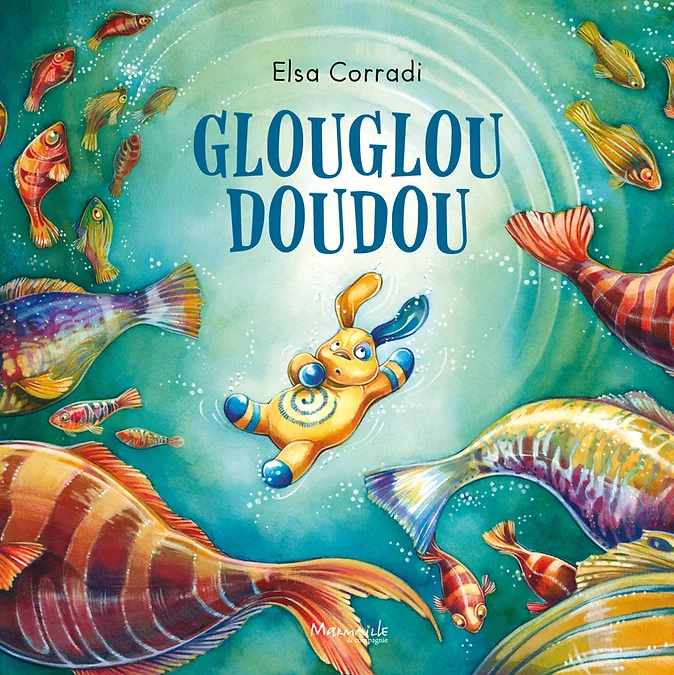 GLUG GLUG BINKY
Writtern and illustrated by

Corradi Elsa
Picture Book
Age group: 5 and up
Pages: 32
Format: 30 x 30 cm
Hardcover
RP: 13,50€
Binky is Mina's best friend and confidant.
During an eventful fishing trip with Grandpa Li, Binky falls overboard and sinks to the bottom of the river!
Suddenly he finds himself all alone, in a world full of strange creatures…
It is the beginning of a adventure full of incredible encounters.
What will become of Binky?
Will he be lost forever? No, never!
​
Elsa Corradi was born in 1995 in the Gers.
With her passion for drawing and colors as a child, she naturally gravitated toward an artistic education. After a Bachelor's in Studio Arts in Bordeaux, her career path led her to the Ecole Supérieure des Métiers de l'Image (ESMI BRASSART).
During those four years, she specialized in children's book illustration.
Her primary source of inspiration is nature. She steeps in it to write and illustrate her stories.
A creator of worlds rich in detail and harmonious color, she enjoys switching up her styles and techniques. An incorrigible lover of paper, pencil, and brush, she does all her illustrations in a traditional manner. Her goal is to give readers young and old alike works that blend poetry and sensitivity, books she would have loved to read when she herself was a child.