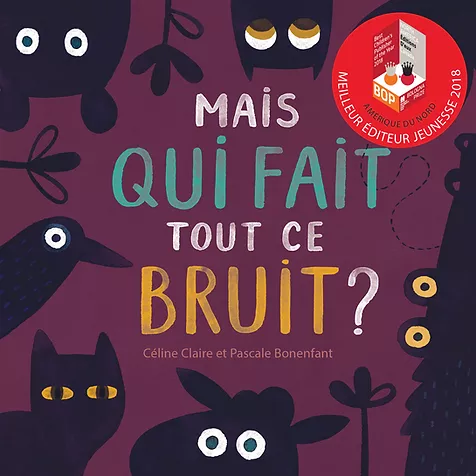 What's All This Noise?​
Written by

Claire Céline


Illustrated by

Bonenfant Pascale
Picture Book
Age group: 2 and up
Pages: 24
Format: 17,75 x 17,75 cm
RP: CAN $19,95
But who is making all this noise? Is it the wolf? The bear? The elephant? You will be surprised … A flip book to discover who is making all this noise …
Themes: animals, wolf, riddles
The author:
Telling stories to students made Céline Claire want to write for children. Today, she devotes herself entirely to writing.
The illustrator:
Pascale Bonenfant has participated in several exhibition projects and has published more than a dozen small author books either solo or in collaboration. The Yellow Umbrella, her first illustrated book, was also awarded the 3rd illustration prize of the Lux Competition.


---