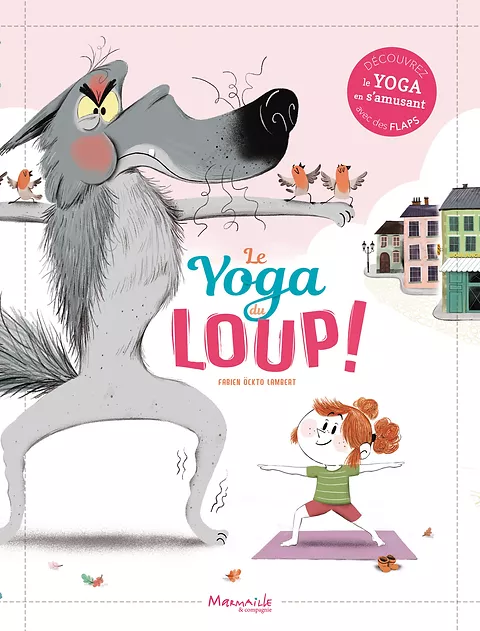 Activity Book
Age group: 3 and up
Format: to be decided
Hardcover
RP: 18 €
The Wolf's Yoga
Written by Öckto Lambert Fabien
Illustrated by Öckto Lambert Fabien
The zaniest wolf hits large format and learns yoga! A humorous large format picture book with Juliette as the « coach » of her friend the wolf, as she sets about teaching him plenty of yoga positions page after page. Liftable flaps allow children to play with the characters in lessons full of humor!
The book:
Here are 16 yoga positions for children to learn in the company of history's zaniest wolf and his « coach » Juliette! On the right-hand page, Juliette shows the position, on the left-hand page, the wolf, all wizened, strives to reproduce the movements of the little girl, which makes for results… well, not always among the most elegant! It must be said that the wolf has a hard time loosening up and being as supple as the young girl. At the rhythm of the flaps to open on each page, the reader discovers how to prepare and then execute the position herself/himself. And the result is funny, to say the least! In any case, not at all at the wolf's level of hope, whereas Juliette is full of patience. But the wolf will eventually find his favorite position which will bring him peace and serenity…
A side collection of the series of the wolf in large format, in which we find the other characters of the series.
An elegant, funny and practical picture book that enables one to execute all the essential yoga positions, for the attention of children and their parents.
A clever placement of paper flaps to be opened allows readers to discover the before-and-after of yoga positions, so as to accompany the characters' positions while having fun.
The always tender and funny universe of Fabien Ockto Lambert, who has already published the first 4 volumes of the successful wide-audience series « Oops there's a wolf ».