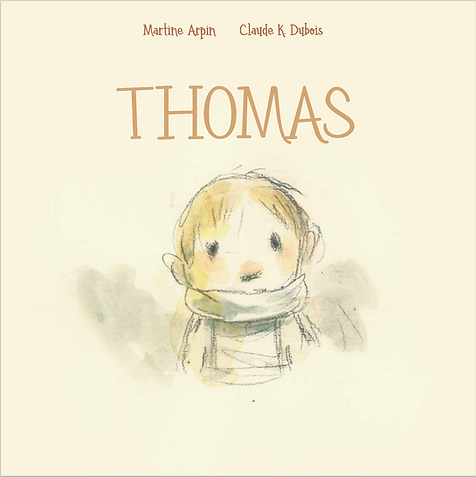 Picture Book
Age group: 4 and up
Pages: 32
Format: 26 x 26 cm
Hardcover
RP: CAN $19,95
Thomas
Written by Arpin Martine
Illustrated by K. Dubois Claude
Following the death of his mother, Thomas looks for a way to mend his broken heart.
A journey told with gentleness and illustrated with tenderness.
A text which invites you into the life of the character, as well as to cherish one's own parents.
​Themes: death, parents, sadness, love
​The Author:
Martine Arpin always has a notebook hiding somewhere so she can write down words, parts of sentences, ideas and images which suddenly appear, at any time of day or night, in her mind. Sometimes, these fragments become professional articles, model texts for writing workshops in class with elementary students, poems and stories. Studying the teaching of writing with experts in the domain has enabled her to grow as a teacher and to understand better the work of authors.
Thomas is her first book. It appeared in her head 15 years ago, rested for a long time in the drawer, then awoke one day, tapping her on the shoulder, so as to say: « I'm ready, now, and you, too. »
​The Illustrator
« Emotion is the driving force in my work. »
For over 20 years, Claude K. Dubois has been writing and illustrating children's picture books, mainly with Editions Pastel. She has created around one hundred picture books which have been translated into over 15 languages. She also leads an illustration course at the Institut de Beaux Arts St Luc de Liège.
Claude received the 2003 SCAM award for youth illustration, in Belgium. In 2014, for her picture book Akim Runs, she received the Katholische Kinderbuchpreis in Bonn, and in the same year the prestigious Frankfurt Book Fair Award: the Jugendliteraturpreis in the picture book category.
She lives in Belgium, in the countryside, near Liège. With chez D'eux, she has published The Gardener Who Planted Books, Cassandra and Arthur & Malika.